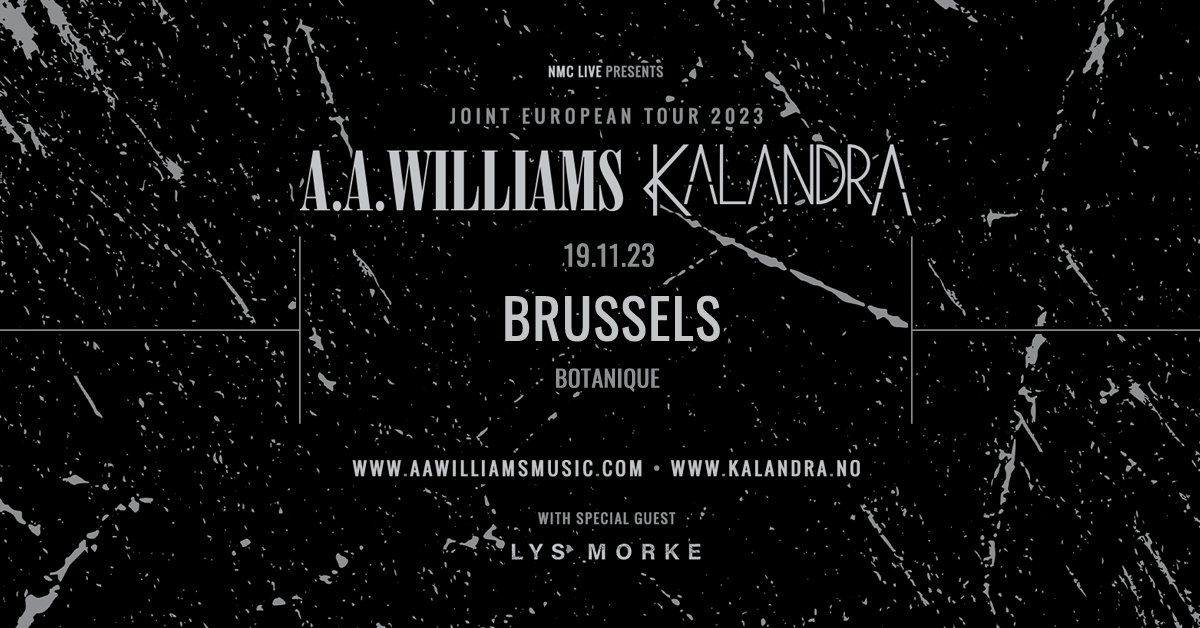 A.A Williams + Kalandra
A.A.WILLIAMS
Making her stage debut in April 2019 and selling out her first headline show at London's prestigious Southbank Centre less than a year later, A.A. Williams hit the ground running. Similarly, the acclaim for her performances and her music has been unanimous from the start. After one self-titled EP and a collaboration with Japanese post-rockers MONO, the London-based singer-songwriter signed to Bella Union and released her stunning debut album, Forever Blue, in July 2020.
That Southbank show would prove to be the last time she would take to the stage for a long while as the world struggled to cope with unforeseen and extreme challenges. Never a musician to sit still, the classically trained multi-instrumentalist focused her creativity on arranging – firstly, by stripping songs back to the most delicate bones on her Songs From Isolation covers record, and now with a complete reimagining of her own material as the four songs from her debut EP become arco.
Not many musicians have the ability – or indeed bravery – to rework a collection of their own full band 'rock' songs into a string-and-voice arrangement. A.A. Williams, however, is not like many musicians and the minimalism of Arvo Pärt and Gorecki has long since sat beside Vaughan Williams' folk-inspired classical work as important influences on her music.
KALANDRA
Spearheaded by four Norwegian/Swedish musicians, Kalandra is a band with roots in melancholic Nordic folk and gritty guitars, weaving ethereal melodies into raw and eerie musical landscapes.
Formed in the beginning of the 2010s, they've spent a decade crafting their own unique sound, building their own studio, whilst also touring and playing support for similar acts such as Gåte, Seigmen, Wardruna and Eivør. Their break came with a cover of 'Helvegen' by Wardruna, that amassed over four million views on YouTube. Since leading them to join forces with the acclaimed record label ByNorse Music.
In 2020 their first full-length album 'The Line' was finally released. The album was a journey in introspection, the feelings of wonder, anger, loss and acceptance at watching both your own life and the world around you unfold.
From their studio in Oslo, the band has since created music for the HBO series "Beforeigners" and the full soundtrack to the game series "Kingdom Two Crowns" which resulted in their second release "Kingdom Two Crowns: Norse Lands Soundtrack (Extended)" in 2022.
These shows will be the first headliner concerts of the band since before the pandemic.
Fresh off their tour with norse/pagan pioneers in Wardruna this summer and ready to join the prog rock giants Leprous on their next European tour, Kalandra seems destined for greatness.
LYS MORKE
Lys Morke (Irene Talló) is a singer-songwriter, producer and visual artist based in Barcelona and born in the nearby town of Terrassa. Through ambient, electronic music and dark pop, she blurs the lines between genres and invites us to explore the inner emotional world with a nostalgic look towards the 90s of PJ Harvey, Massive Attack or Tori Amos and the influence of contemporary electronica by artists such as Arca, Sega Bodega or Grimes.
Whether with intimate ballads drenched in electronic landscapes – or with reggaeton, techno, autotune and thick bass sounds – her songs tell us stories of desire, cruel love and loss. An exercise of introspection and vulnerability that reflects the therapeutic process: feeling and materializing emotions in order to heal and rebuild oneself.
At the age of 8, Irene picked up a guitar for the first time and has never let go of it – it has been her main tool for exploring music throughout her life. Now, however, this formative instrument takes a back seat. Having traversed genres as disparate as alternative folk and experimental metal, she toured throughout Europe in group projects before beginning to lay down the foundations of Lys Morke in 2019. Experimenting with her music and performance in the eye of an online audience, Irene developed as a producer by fusing many electronic subgenres such as ambient, hyperpop or techno without losing the roots that have built her musical identity, such as alternative and progressive rock. Preparing to release her new music, she is joined in the live band by Jaime Díaz-Otero (electronic percussion) and Judit K (synthesizers).