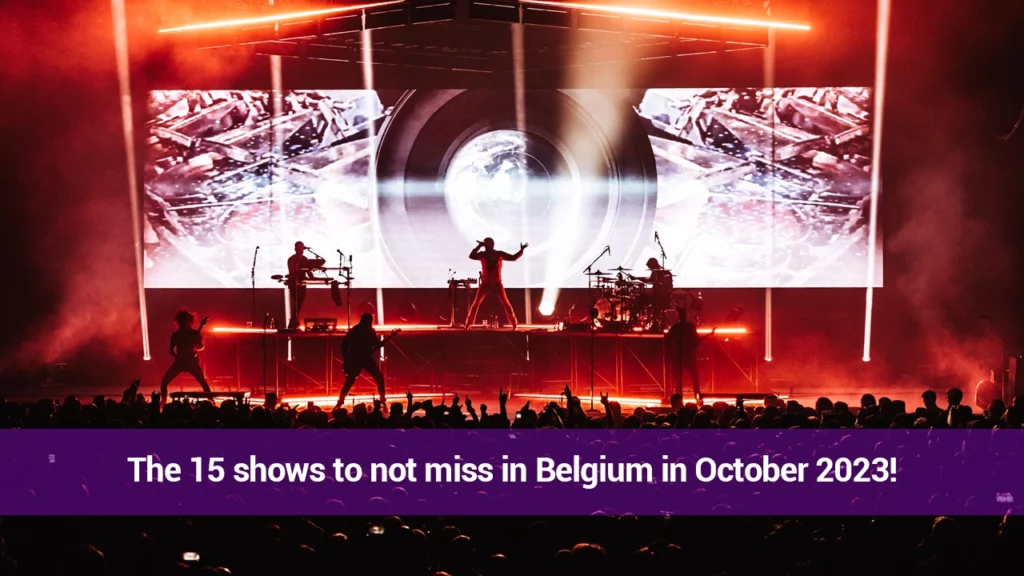 Autumn is here, and temperatures are slowly dropping. What better way to chase away the autumn chill than with a great concert? We've selected the 15 shows to not miss in Belgium in October 2023!
Ultima Ratio Fest – Trix – 04 October
The Ultima Ratio Fest tour is back this year after a huge success last year. For this new edition, the organizers have brought out the heavy metal artillery! Paradise Lost has the honor of headlining this year's line-up, and will be joined by Primordial, Omnium Gatherum, and Harakiri For The Sky. An evening not to be missed by any metal fan!
Therapy? – Trix – 05 October
Have you taken our advice and gone to Trix the day before? Why not stay in Antwerp for the Therapy? concert on 05 october? The Irish band returns to Belgium for what promises to be a rock'n'roll concert. Can't make it to the Trix? Don't worry, the band is also playing at the Reflektor in Liege the next day, and will be back in Belgium in November.
Mayorga – Ancienne Belgique – 07 October
Mayorga is the band of Helena Mayorga Paredes, a Chilean-Belgian graduate of the KASK Conservatorium in Ghent. With three of her friends, Helena creates indie pop music with a hint of lo-fi, mixed with good old-fashioned electric guitar. They are a band worth experiencing in an intimate setting at the AB Club.
Grandson + DeathByRomy – Trix – 08 October
Grandson, rapper or rocker? We're not sure, but what we do know is that the artist, who turns 30 in a few weeks', is a true multi-talent. He blends fiery guitars with rap influences, trap rhythms, and electronic music inspirations. Moreover, he's gained a reputation for delivering electrifying live performances. What more could you ask for? A free concert just after Grandson's show! Yes theTrix is offering a free show featuring the intriguing artist DeathByRomy. You know what you have to do.
NF – Forest National – 08 October
It's time to activate your nottification on Ticketswap because NF is back in Belgium. And this time it's not the Kavka Zappa or Ancienne Belgique that he's sold out, but Forest National! Yes, the rapper who released his latest album Hope last April has once again proved that he's an artist to be reckoned with in the world of rap… and music in general!
Violent Magic Orchestra – Botanique – 11 October
We already had the opportunity to witness the madness of Violent Magic Orchestra earlier this year in the intimate setting of the Witloof Bar at the Botanique, and it was a truly mind-blowing and unforgettable experience. In a nutshell, VMO's music is an unlikely fusion of techno, industrial, and black metal. However, above all, it's a live experience like no other! So, come on and join the excitement; you won't be disappointed!
Ken Mode – Botanique – 12 October
Noise Rock, chaotic hardcore, and angry metal. That's how you could describe the music of the Canadians in KEN Mode. They are back in Belgium for a series of shows, where KEN Mode will be presenting their two latest albums, "NULL" (released in 2022), and "VOID" (released a few days ago), as well as their new line-up, which now includes multi-instrumentalist Kathryn Kerr on saxophone, synth, piano and backing vocals.
LavaGang Fest – De Klinker Club – 14 October
LavaGang Fest is the crazy challenge taken on by YouTuber Llama Lavalamp, who teamed up with our friends at Hellhole Project to put on a concert featuring all the musicians from his "LaVaGang Mix Tape Vol 2". And because they want to do things right, they've also invited the band For I Am King to headline, along with their friends from Ashen, Glassbone, Affenpinshers, and Ice Sealed Eyes, who will start things off. Aarschot you're not ready for this carnage!
Haru Nemuri – Botanique – 17 October
Here at CtrlAltMusic, we like unclassifiable, multi-genre artists. That's why, this time, we suggest you go and see Haru Nemuri at the Botanique. Originally from Japan, Haru Nemuri is a committed singer who blends euphoric J-Pop, poetic rap, optimistic pop, the intensity of post-hardcore and the rage of Riot grrrl into a unique fusion, daring to explore contradictory extremes in search of a balance between hope and nihilism.
Käärijä – Trix – 18 October
We're not going to lie; nobody in the team watched Eurovision this year. However, we couldn't miss the hype surrounding Finland's representative, Käärijä, and his hit Cha Cha Cha! Now it's time to discover the new sensation on stage and get ready to rock out on the dancefloor!
Thy Art Is Murder – Kavka Zappa – 21 October
Big Deathcore show at Kavka Zappa on October 21! Thy Art Is Murder have invited Whitechapel, Fit For An Autopsy and Spite to destroy everything in their way. As well as the destruction, it's also a perfect occasion to discover what Thy Art's new line-up looks like, with Tyler Miller on vocals.
Meet Me @ the Altar – Botanique – 23 October
Formed since 2015, Pop Punk band Meet Me @ the Altar have never performed in Belgium. This will soon be a thing of the past, as the three girls will be at the Botanique at the end of October. They'll be presenting their debut album "Past // Present // Future" at the Witloof Bar for a concert we can't wait to see.
Fall Out Boy – Forest National – 25 October
If you're asked to name a band from the emo era, what's the first that springs to mind? Fall Out Boy, of course! The band was the idol of a whole generation in the 2000s, but has managed to reinvent itself over the years. And if you're still not completely convinced, PVRIS and nothing,nowhere are special guests for this show. Anyway, it's time to get out your old Vans, checkerboard belt and skinny jeans, because NO, IT'S NOT A PHASE MOM!
Bob Vylan – Ancienne Belgique – 27 October
Bob Vylan was originally scheduled to open for Grandson at the Trix. But for some unknown reason, the band won't be touring with Grandson. And that's just as well! Why? Because instead, we'll be treated to a full Bob Vylan concert at the AB Club! This unexpected twist promises an unforgettable night of music, and we can't wait to see what the band has in store for us in this intimate setting.
Leela James – Vooruit – 27 October
To round off this selection, we've chosen to bring you a little sweetness with the magnificent soul voice of Leela James. Well-known as a live performer, Leela James will be bringing her groove, energy, generosity and authenticity to Vooruit. A concert that R&B fans won't want to miss.
This list represents only a part of the massive calendar from October and also based – a little bit – on our own musical tastes. Drop a comment on our Facebook or Instagram about the show you wanna see in October – from this list or not!