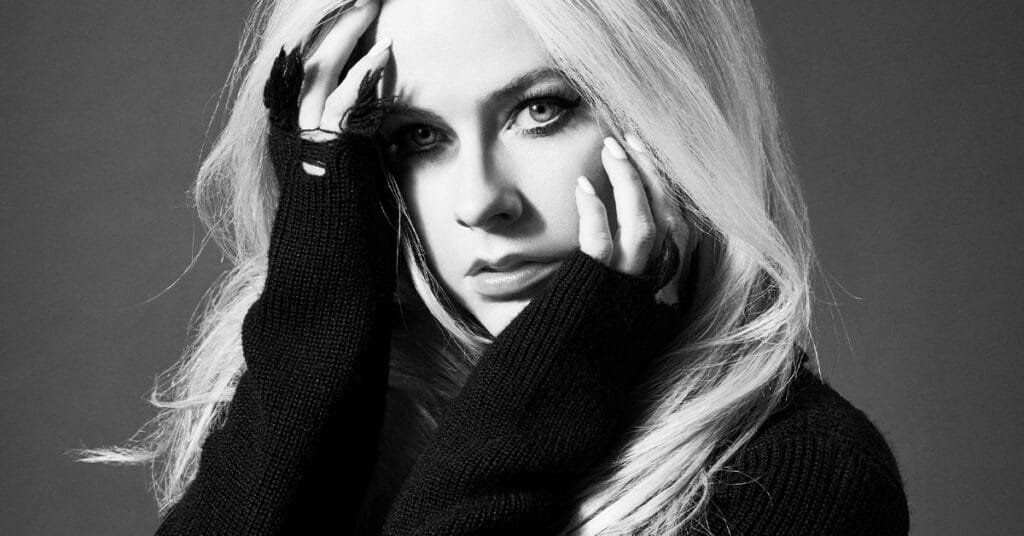 Avril Lavigne, once the queen of pop-punk, returned to Belgium with a concert at Forest National. It was her first show in the country in over a decade and fans were eagerly anticipating her performance. Unfortunately, the show left many fans disappointed.
Only opener on this show, Phem and her 2 musicians, did her best to warm-up the thousands of people already present in the venue. A short set – 25 minutes – quite powerful in a modern pop-punk style with some heavier riffs sometimes but with too many backtrack. A large part of the audience liked the show: the good reaction on the brand new single I Love My Dogs is a proof of that. Decent to start a show but not the discovery of the year either. Anyway, we were 8000 here only to see the pop-punk queen, the crush of billions of teenagers 15 or 20 years ago, the symbol of a big era of pop-punk: Avril Lavigne!
Her tour, postponed twice because of the pandemic, arrives here at a great time: not only because it's in May, a period not really busy between the end of Spring and the beginning of festivals, but especially because we are living a revival era of pop-punk since 3 -4 years. We had the comeback of My Chemical Romance (without Belgian shows yet), the comeback with a new album of Paramore (still waiting for a show in Belgium too), new stars of the genre like MGK or Olivia Rodrigo and of course the comeback with legendary Blink 182 with Tom Delonge. Avril Lavigne was basically the only one missing in the puzzle. And around 12 years after her last stop in Belgium, she's finally back! For all these reasons, we have a very large audience from different generations: parents who were in their early 20's when they discover her, the kids who joined their parents, the new generation of pop-punk kids (or TikTok Generation), the people in their 30's who can finally see their college's time star and the people who only discovered pop-punk during the pandemic. Sadly, we supposed there were some people who discovered pop-punk in 2020 and think Machine Gun Kelly aka MGK create this genre…
This tour is here to promote the new album "Love Sux" so it's not a surprise to see her starting with Bite Me, which is a great song like this whole new album to be honest. What The Hell from "Goodbye Lullaby" (2011) was good enough as second song but people wanted to her biggest songs, meaning from the first 2 albums. Fulfilled wishes with the 2 next ones: Complicated and My Happy Ending. We are even surprised to see her first single ever being played so early in the set… but we quickly discovered that the set will be very short.
Many times during the show, Avril Lavigne has disappeared to let her musicians playing alone. If we cut all these parts, she would have been able to sing 3 more songs. But is she really singing? On some songs, we can really se her lip-synced some of her songs. From speaking loud between songs to almost not opening her mouth during a song, we were shocked. That's not really punk… Next to that, the energy was really missing on stage. Even if she's 38 years old now, she played like she was a rising pop-star, like a 10 years old kid in a garden party. Does she really care about her fans? She appeared to be sometimes disinterested and (all time time?) disconnected from the audience. The stage production with a big LED screen and some pyros sometimes was decent but didn't help.
In the end, we had a poor 75 minutes shows with only 13 songs including a ridiculous cover of Wanna Be with Phem on stage. It's like people paid 45€ to see 2 girls enjoying their Spring Break together. What a shame. Her song played on drums? It reminded us Justin Bieber… not the best reference. Her final song was a good choice in the end: Here's To Never Growing Up. Indeed, it seems she'll never grow up.
The disappointment was palpable in the whole venue. It's a shame to see Avril Lavigne, the female definition of pop-punk, deliver such a poor show. Especially to the fans who have been waiting a decade to see her back. During 75 minutes, we had 20 minutes of joy (Sk8er Boy, Complicated, My Happy Ending, I'm With You, Girlfriend) and 55 minutes of disappointment.