On the 7th November, in the heart of Brussels we're going to the Ancienne Belgique for a soldout show of Halestorm, Black Veil Brides and Mothica.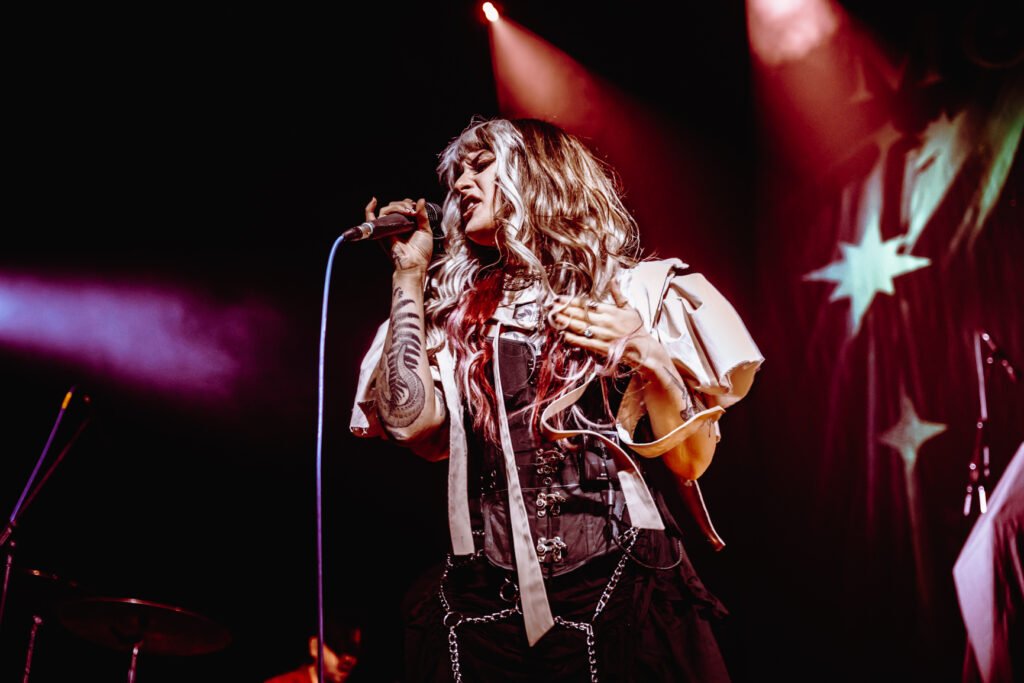 To kick off this tour, Halestorm has brought Mothica on board for her very first European tour. Mothica, also known as McKenzie Ellis, gained recognition through the social network TikTok in 2020 when her song "VICES" went viral. She starts her set with "CASUALTY" from her latest album Noctural —a song with powerful lyrics, a catchy melody, and plenty of energy. McKenzie's voice is remarkable, as is her stage presence. It's hard to believe that this is her first major tour; she just seems so at ease.
The performance includes a rather successful cover of Bring Me The Horizon's "Can You Feel My Heart." Between songs, Mothica frequently interacts with the audience, expressing her joy at touring Europe or explaining the meanings behind her songs For instance, "Buzzkill" delves into the time she experienced abuse from her childhood pastor, while "Forever Fifteen" addresses the topic of suicide. She concludes the evening with "SENSITIVE," and for her inaugural appearance in Belgium, it was a resounding success.
Black Veil Brides is finally back in Belgium after more than 10 years!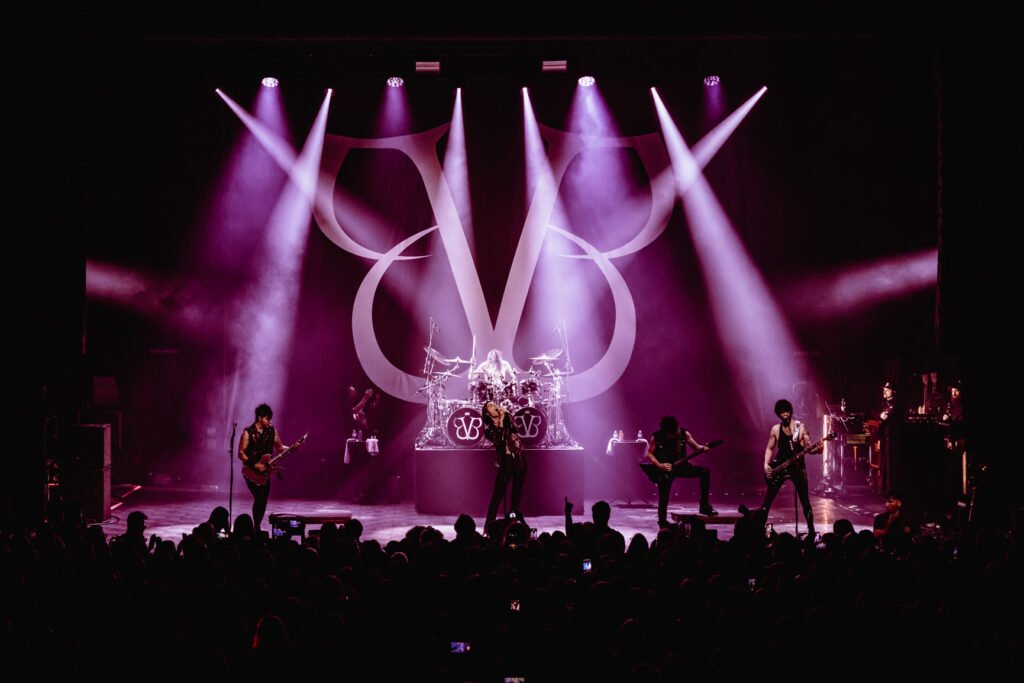 The second band of the evening is Black Veil Brides. Intensely beloved and defended metalcore make their long-awaited return to Belgium after more than 10 years. Starting their set with the "opening title" of the movie "Sweeney Todd" followed by one of their well known songs "Crimson Skies" which got the crowd instantly amped for their set.Taking their fans on memory lane with the instantly recognisable "Rebel Love Song", "Wake Up", "Nobody's hero" and their newest offering "Devil". The duality from the three songs obtained an overall great response.
Andy Sixx take us back after their newest singel to 2021 with their songs "Scarlett Cross" and "Torch". Taking us back from 2021 to 2011 with "The Legacy". And even all the way back to the beginning with "Knives and Pens". Black Veil Brides reached out and touched the souls of every audience member in the crowd, before concluding the night with one of the most powerful and epic concert endings imaginable as they performed "Fallen Angels" and "In The End".
Setlist: Opening Title (Theme from Sweeney Todd) – Crimson Skies – Rebel Love Song – Wake Up – Nobody's Hero – Devil – Scarlett Cross – Torch – The Legacy – Knives and Pens – Fallen Angels – In The End
Now it's finally time for Halestorm!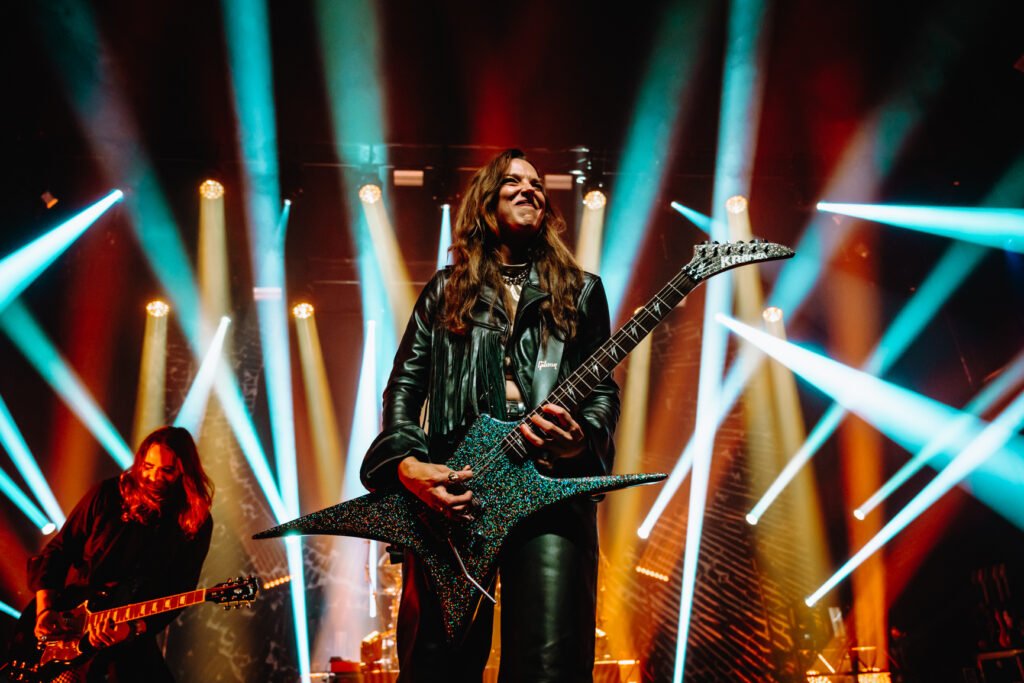 As soon as the group enters the stage, they sing a cappella as a greeting and it goes directly into "I Miss The Misery". Industrial style lights glow purple and neutral as the Halestorm logo floats above. Stripped back and subtle, it matches perfectly with the acoustic section of the evening.We continue with the classics from old albums with "Love Bites (So Do I)" and "I Get Off". The crowd will go wild when they hear the first notes of "Freak Like Me", an anthem for the fans. Special mention for the lights which will be incredible throughout the set.
The group resumes with a more accoustic moment with "Familiar Taste Of Poison" followed by "Takes My Life". After this accoustic moment we also find the classic drum solo of Arejay Hale. His drum solo is original and ends it with two giant drumsticks (!). Continuing their set with "Back From The Dead" and ending it with "It's Not You". But this wasn't the fully end of their show, an encore with 2 more songs followed with the known songs "Here's To Us" and "The Steeple".
Setlist: I Miss The Misery – Love Bites (So Do I) – Rock Show – I Get Off – Wicked Ways – Freak Like Me – Break In/Heart of Novocaine – Raise Your Horns – Amen – Familiar Taste of Poison – Takes My Life – Drum Solo – Back From The Dead – I Am The Fire – It's Not You – Here's to Us – The Steeple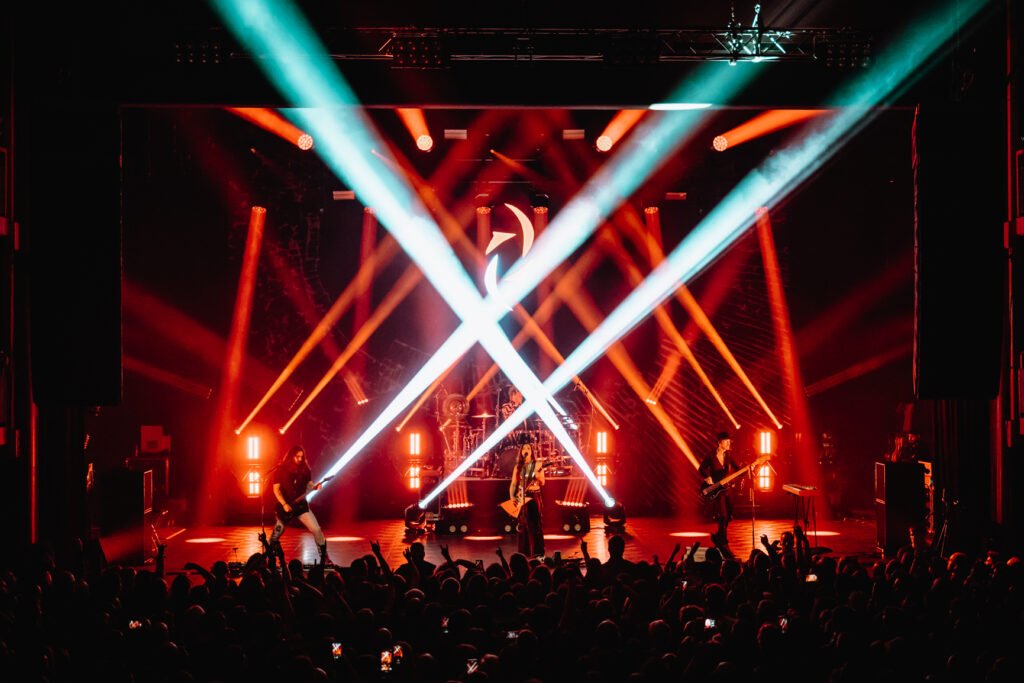 The band, fronted by Lzzy Hale put on one hell of a show. If it were possible to give more than 100% then it would be fair to say these guys well and truly gave us more. Halestorm hold the audience in their hand throughout their whole performance, in a seemingly effortless way. What a night, thanks Mothica, Black Veil Brides and Halestorm!