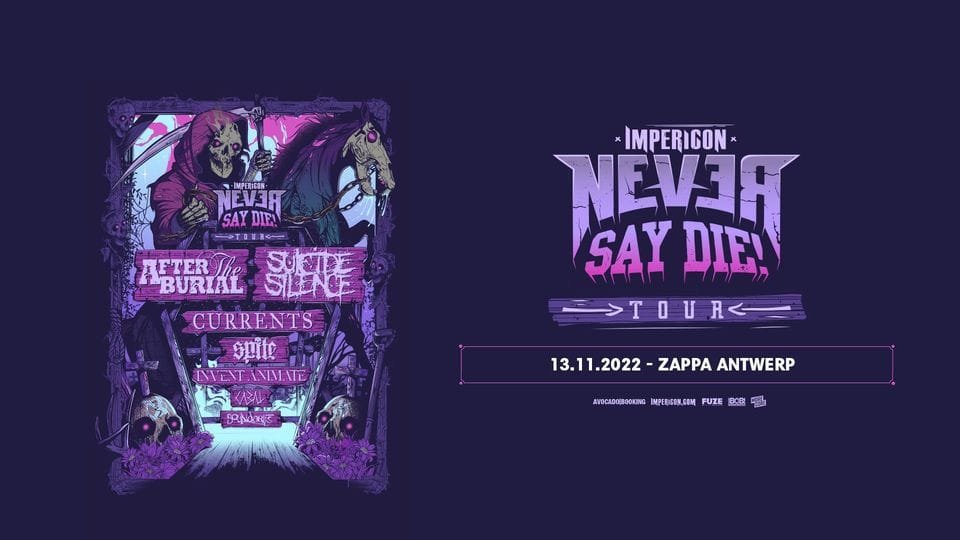 Music industry is alive and back for real in 2022. Obviously, there are still many issues but the foundations are again strong enough. For the first time since 2019, we can enjoy a marathon of shows this Fall. One more proof we're back it: the annual Never Say Die! Tour is finally back with a bunch of old and new bands as usual!
November 13. A date we'll never forget. Exactly 7 years, several terrorist attacks were carried out in Paris including one at the Bataclan during the show from Eagles Of Death Metal. One of the 6 attacks that happened during this dark night. From that night, 131 people died. Many horrible events are happening worldwide everyday and this one was not most important, it was horrible like all the terrible events happening in our world. Today is just the day we remembered this one. Sadly.
November 13. Closer to our time, we also remember 2020. Exactly 2 years ago, the Never Say Die! Tour announced its edition for 2021, one year in advance. We never thought this 2021 edition would never happen. Promoted by Hurricane Bookings in Belgium, the tour was headlined by Polaris thanks to the strong hype around their second full-length album "The Death Of Me" and supported by the true ambassador of this tour: Emmure (2010, 2011, 2013, 2017, 2021), Currents, GraveMind, Invent Animate, Stepson and Spite. An amazing line-up on paper that never happenend. From this edition, only a few bands make it to the 2022 version: Currents, Spite and Invent Animate. The other acts have toured recently on their own tours.
NEVER SAY DIE! TOUR = ALWAYS SAY ALIVE! TOUR
Even if this legendary tour isn't as stronger as a couple of years ago, it still provides a very good line-up. There are 2 main reasons explain why NSDT doesn't bring 1000 people on a night: big bands prefer tour on their own and there less young bands with enough hype for that. In 2010, the insane new popularity of Parkway Drive made them upgrade venues a couple of times. The next year, Suicide Silence were at their peak. In 2014, they booked an hardcore edition with most popular band for young kids, Stick To Your Guns. And in 2016, their brought madness with Whitechapel and Thy Art Is Murder for their most brutal edition ever. Since then, great line-ups of course, great young headliners and decent line-ups. Just less breaking-level. But that doesn't mean it's less good, absolutely not!
That being said, let's finally focus on this 2022 edition which is the first real one since 2019! For the first time since a while, it's a co-headline: Suicide Silence and After The Burial. If Suicide Silence have headlined the tour 11 years ago, we were a bit surprised to see ATB so high in the line-up, especially in Belgium tonight where they were the closing act at Kavka Zappa.
To open this long day (7 bands in total !), Boundaries from the US had the difficult task to awake the couple of curious people already present in the venue. Their powerful music was the best to start a day like day with some hardcore vibes reminding us the debut album of The Ghost Inside. We were not the only people motivated as a few people started the pit from the very first song: even with 3 people in it, it was almost enough to almost destroy our photographer's camera. No barrier tonight so photopit and moshpit are the same. It was honestly a little surprise because for Polaris or Wage War in the same venue and same configuration, MCLX did put a barrier. A question to ask to the promoter or the venue one day!
After a short but intense set, we only had time to take a beer and go back in front of the stage as there're only 15 minutes change-over on this small itinerant festival. Second band on the bill: Cabal. It's their first show in Belgium as they were in Europe in May as main support for King 810. Unfortunately, the couple of people already in the Kavka Zappa seems less motivated than for Boundaries: meaning the 3 people who moshed before took a rest. The death Danish band tried their best during 30 minutes to get the audience moving but it happened only during the last song when their singer asked people to come closer and participate a bit more. Once again: the Belgian audience is a bit shy and need to be motivated a lot to move a little.
We kept the 15 minutes change-over and the third band was already on stage: Invent Animate. Sadly one of the bands who got the less good sound tonight: not clean enough, which is understandable with such a short line-check. The thing is with that kind of progressive metalcore band is that it's already a bit difficult to be in the mood if you don't know the songs very well. And it's even harder if you don't get a really good sound to hear it clearly. The band newly signed on UNFD since last year played only recent songs including an unreleased one and the new single Elysium released at the beginning of this Never Say Die! Tour. We'll definitely attend a show of Invent Animate when they're coming back in Europe in 2023 in better conditions!
A quick return to the merch and we're already back in front of the stage for Spite. And the return of the pit! The night just won 2 levels in ambiance, energy and affluence. Even if it's on Sunday, the almost 500 people weren't motivated to arrive so early. Too bad for the opening acts! But from now until the end, we'll have a packed venue as we heard the last tickets have been sold at the doors and the event is officially soldout! The American band signed on Rise Records are motivated as f*ck for what seems to be their first Belgian show. So are we! Durning half an hour, they will deliver a strong set with an energy than reminded us sometimes Kublai Khan Tx. For sure, one of the highlights of this evening in Antwerp!
Set-list: Lord Of The Upside Down, Cave In, Ied, Kingdom Of Guts, Dedication To Flesh, Kill Or Be Killed, Crumble.
Already 4 bands done means 3 left. Firstly Currents as main support, followed by the double headline Suicide Silence and After The Burial. Like we said earlier, Currents have announced… and cancelled so many tours in the last 2 years due to the pandemic. Everytime we thought it was gonna be the good one, it failed. But tonight, nothing can prevent them to go on stage. The Kavka Zappa is now full and ready to welcome them. They can finally introduce their latest full-length album "The Way It Ends" for the European public and without any surprise, this album took the biggest place on their set-list: 4 from the 7 songs played. But it's with an older song, Into Despair, that the metalcore band from the Connecticut followed by their newest song released 2 months ago on Sharptone Records, The Death We Seek. The crowd seems to love it but from the spot we have, it doesn't sound so great.
And compared to what's next, it felt not powerful enough. With Suicide Silence, we have the award of the biggest madness of the evening. And we can already say that: it wasn't a good move to put them before After The Burial as so many people came especially for Suicide Silence and left after their set… Of course, it's sad and it's a shame they didn't stay at least at the beginning of the set to check it. The only positive thing about that: we had more space.
In 2011, Suicide Silence headlined the Never Say Die! Tour in the main room of the Trix (1100p against the 500p tonight). They were at the peak of their career while Mitch Lucker was still in the band (R.I.P.). Since then, they have slowly but surely moved down the hierarchy but kept a strong fanbase and the habit to be booked by the Graspop. A festival they surely loved and asked the audience to pretend they were at Dessel tonight and get crazy as much as they can. While the first crowdsurfing happened only at the very last song of Currents, the second one – before many more – happened on the very first song from Suicide Silence. Same for the biggest wall of death from the night. Audience are on fire and respond well to all the songs played from many albums. Even if, obviously, the most awaited was No pity For A Coward.
Set-list: Unanswered, Wake Up, You Must Die, Disengage, Fuck Everything, Love Me To Death, Capable Of Violence, You Only Live Once, No Pity For A Coward.
It's hard to play after such as set if you don't have at least the same level of reputation than Suicide Silence. Honestly, from the day Avocado Booking announced the line-up, we've been surprised to see After The Burial as headliners. Their performance confirmed our doubts. Of course, it was great, lot of people still in the venue but they didn't have the stature – yet – to headline such a legendary tour. Anthony made a great speech about being back on tour even if it's still weird for him. And it was one of the best memories with have from their set, that didn't have the best sound either unfortunately.
The Never Say Die! Tour is still a big name in the metal scene but 2022 wasn't their stronger year for sure. Many young bands we'll hear about for a long time (Spite, Currents) but none of them seems to be headliners material. It was a great night, great to see all these bands finally back on the road but not a legendary evening.