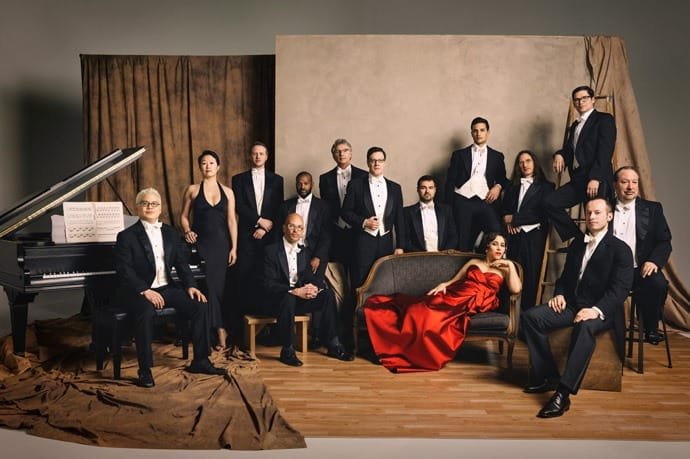 Pink Martini
Pink Martini
Pink Martini is the brainchild of pianist Thomas Lauderdale (Portland, Oregon), who in 1994 founded a 'small orchestra' that was supposed to raise the quality of music at political meetings. A year later, Thomas asked Harvard student China Forbes to join Pink Martini as singer/composer. The first song they wrote together became an instant success in France. Sympathique' was nominated for 'song of the year' and 'newcomer of the year' at the French Victoires de la Musique Awards. The credo from this song ('Je ne veux pas travailler') is still used as a mantra during strikes in France.
Pink Martini currently consists of 13 musicians who have mastered the most diverse languages and musical styles. This is reflected in the group's oeuvre. Thanks to their tours through Europe, Turkey, Taiwan, Japan, Lebanon and America, they have absorbed even more musical influences. During a concert, the audience imagines itself successively in a samba parade in Rio, a Cuban café, a French theatre from the thirties, an Italian mansion or in Japan. China Forbes sings fluently in five languages, with a lively musical accompaniment that skips between classical, jazz and pop.
Their records are released by Heinz Records, a private label that owes its name to … the Lauderdale dog. Sympathique', 'Hang on Little Tomato', 'Hey Eugene!', 'Splendor in the Grass' and 'Joy to the World' became gold records in France, Canada, Greece and Turkey and sold more than 3 million copies worldwide. In the band's 20-year history, Pink Martini has been inducted into both the Hollywood Bowl Hall of Fame and the Oregon Music Hall of Fame.