We take advantage of this sunny evening to meet one of the bands that hit the hardest. Another great batch from Australia, CIVIC comes to present Taken By Force at the Trix, an album that hits right in the face ! Between HxC, punk-rock and rock'n'roll, the Australians did not only bring us the good weather for this month of May. Between change of lineup, productivity and a crazy desire to dance, the group reveals itself in this interview.
We have a feeling that in Australia, making fast moving music is almost a gift, what is the secret ?
We don't really know. There are a lot of bands playing every night this rock'n'roll music from our country and it has always had this transcendent energy. That's what people want to hear in Melbourne and it's been that way since the beginning of punk rock and so we grew up in it. Maybe boredom too (laughs)… We have good pubs and it's always a good time when we go to see Australian bands on stage.
Is there a sense of community among all these bands like Amyl And The Sniffers, The Chats, Clowns … ?
We're kind of in that community, but we've each gone our own way, in the end we've never been on the same stage. We're not specifically from the same scene as The Chats or Amyl And The Sniffers since themselves are not from the same scene.
It might be a bit of a cliché but all the cool bands are from Australia at the moment.
The only time we came across a band you mention was Clowns years ago and they opened for my project! (laughs) Beyond the scene I think it's a culture and in the bands you mention are international bands that tour a lot. To say of the same scene happens when one remains of the local bands I think. To say of the same scene happens when one remains local bands I think. Once the band evolves you can't say you're part of the same scene anymore because everybody does what they have to do.
From Australia to Europe, what a journey ! What is your feeling for this beginning of European tour ?
It's just amazing.
Do you feel a difference since you were last here in 2019 ?
Yes, that's for sure. We have a much larger audience, more excitement, more feeling. The first time we came to the continent, we didn't do a big promotion. To be honest we were playing it cool and we thought people would come anyway. We only got on Instagram a couple of years ago and that's when we realized it works better for promoting ourselves.
Radio Birdman is a band that remains in your background since the beginning, the singer of this mythical Australian band even produced your last album, how was it to work with this artist who is so special to you?
This is truly the authentic Australian sound as it sounds and it is unique. You can really hear them in our music so it was a logical choice to try and get that contact to produce our album.
So we can see this as a dream come true ?
Yes a little, but we never recorded with a producer before. We had finished writing the project when Rob Younger rather polished it. It was a really fun experience, this is a band that even our parents listened to so it was a real joy to share this project with Rob.
We can feel a real difference in style between your first album, "Future Forecast" and your last opus "Taken By Force", with two years passed between the two, how do you explain this little turn towards something more violent ?
You think so ? Things are progressing naturally, the first songs of our first album were written with different members who left the project and now it almost feels like we are starting a new one. There was also a lot of shit going on in those two years like the pandemic which got us into some personal shit. So we had a lot of ammo ready for "Taken By Force". A lot of ammo…
What can we expect from one of your shows with this mix of styles ?
It goes very fast, the energy is high, it's rougher than on the album. We are more oriented towards the hardcore show than the pure punk show. Our shows can look like a dance party…
Your band was validated by one of the pioneers of the style, Henry Rollins. How does it feel to have the recognition of one of the godfathers of punk ?
This is something very special.
It puts you in the big leagues.
It's been a really cool time and an accomplishment now it's not something fixed and we take for granted. We have never looked for validation from anyone and we make our music without thinking about that validation from other people. We don't need a pat on the back, if everyone hated CIVIC, we would still be making music.
You seem to have a thirst for creation, as if you didn't have the time.
Why wait ? If we can do it, we do it.
It's an interesting approach when you see that labels sometimes take a year to properly release a project from their artists.
No, here we have things in us and we have an edge, why not play it ?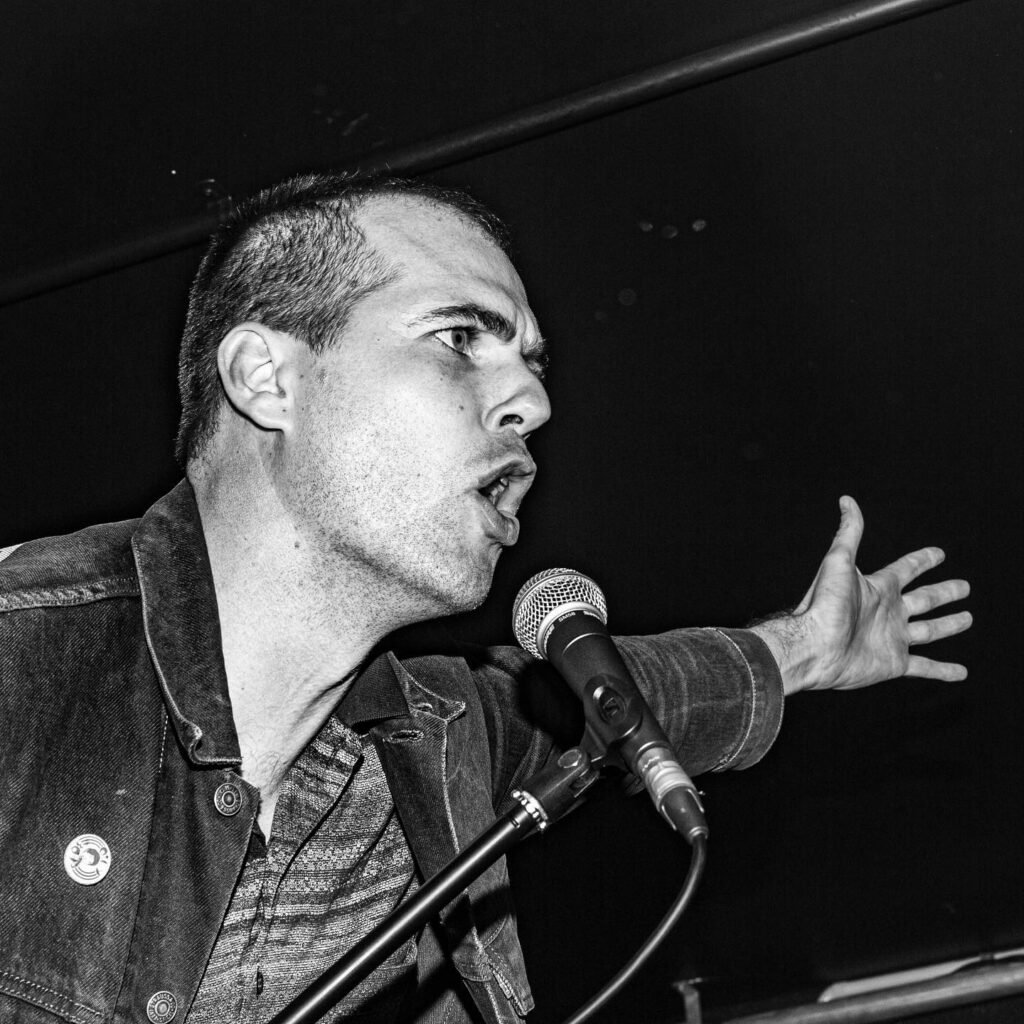 CIVIC then followed with a very HxC oriented show as expected. You can find the live report here and don't hesitate to discover this outstanding band that deserves all your attention.
Thanks a lot Trix and CIVIC !