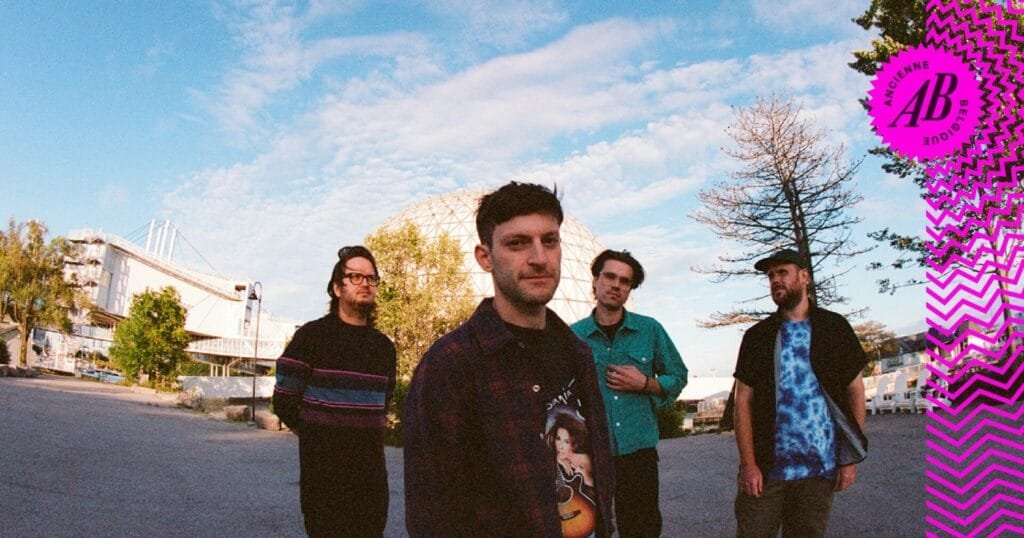 Before a legendary show at the Ancienne Belgique, we had the chance to meet Steve, the guitarist of a punk band that is breaking records… PUP ! Intense touring, the last album, we tried to tackle every subject with this awesome musician !
For a band that has toured as much as PUP, how does it feel to be back on tour ?
Steve : It feels good to be back in Europe. We really appreciate to be back on stage after all the pandemic, it wasn't easy to stay at home. It was difficult to start it after two years, but touring for us seems to be kinda like riding a bicycle. We never took touring for granted, but we were used to do it. Now that we are a bit older, being away from home and family is not easy but for the most part of it, touring is nice.
Has the atmosphere changed on tour since the beginning of the band ?
Steve : Yeah, i think so. We are much more appreciative to people coming up to our show everywhere in Europe. It meant something before, but it feels very special to be back again and to still be able to do this as our job.
Your last album was released a few months ago, after all this time, how do you feel about this latest project ?
Steve : Yeah of course, we are still proud of it. The further away we are from the release (April 2022), the more people are singing the lyrics back to us in the crowd. Someone came to me yesterday and said " Everytime i hear this album, i hear something new ", and i think that was our intention. We tried to experiment a lot of new sounds on this last record, especially with my guitar. Zac, on drums, tried new things too on his pad and still, we wanted to play rock music as a band, it was the big challenge.
On your first projects, the themes are very dark and specific to the trials and tribulations of early adulthood, does it remain the same now that you have grown up ?
Steve : I think some of those themes remains relevant, especially with the lockdown. Times were tough for everyone, and i guess for you as well. As human beings, we experienced it differently, which is very strange. We went through the same things, but not with the same experience. Maybe that's why our music resonated for people until now. Stefan sings about his personal experience and i think this is a universal language, everyone can relate to it and understand it.
Does it change the way you write songs ?
Steve: We don't overthink that much about that. If it resonate insides ourselves , it can connect with other people.
And on the last album, the writing is much more mature and filled with metaphors.
Steve: Yeah, i think it comes with age. It would be strange to write like we were 25 again. We want our audience to listen to something new from us, to hear that we have grown up. If they put the effort to buy the records or the tickets to see us, we want to propose to them something that's new and true. We are not really self serious as a band, but our craft is something that we take really seriously.
Coming from a very codified scene, you decided to take another way, what have been your influences lately ?
Steve: We're all listening to different genres of music. Straight up punk music or ambient music, as you can hear it at the beginning of Mathilda. We love metal, i love jazz and rock music. I think in some ways, this sonic change would have happened anyway, it's a natural cycle. We tried to put our influences in front on this last record, without forgetting what people love to hear in PUP.
So you take the public's comments very much into account?
Steve: Yes, i think at the end of the day our music should be interesting. Sometimes we think, " What if we do this and nobody gives a shit " and it can be really frightening … Still,we did it that way. We had to push our limits but still wanted to release a fresh new PUP record.
From the AB Club to the AB Box, from small stages to Coachella, does this progression make you change the way you prepare your shows ?
Steve: It's not that different. Of course, we care much more about the setlist and the timings and we take much better care of ourselves as we used to. The big thing is that we never tried to change anything to get there. It's a really slow and steady path. Still, peoples comes to see us because we are a loud rock band. And nowadays, i feel people want some raw music on stage, something real, and that's what we do. The best example is that our banner is too small for the stage tonight (laugh).
Is this a tip for new bands ?
Steve: I think the listeners are smart enough to feel when it's fake or not. And I feel like rock is on the rise right now, so we're just doing what we love while evolving
Do you have any knowledge about the Belgian scene ?
Steve: We played once with Psycho 44, they are great !
What is the best feeling you have after a concert ?
Steve: Seeing people sweating as much as i do ! (laugh). That means that everyone is having a good time, like a cathartic experience. Times are strange right now … People are excited for PUP, like us, and we don't take it for granted.
After leaving Steve, we were treated to a great music show. PUP turned the Ancienne Belgique around tonight with a powerful set and a unique ease on stage… A very very great band. We are happy about this great meeting and we invite you to run to see PUP as soon as possible!