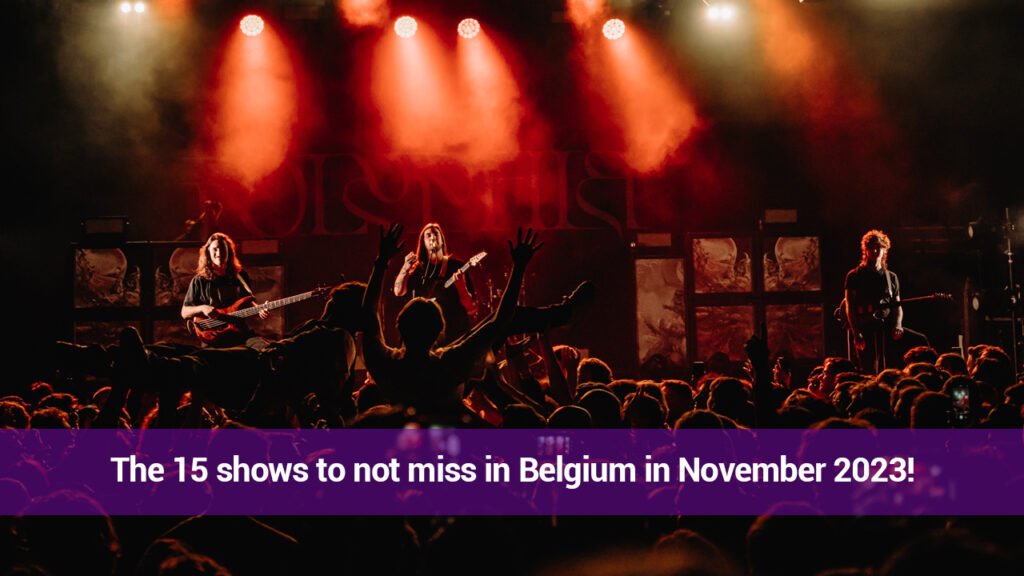 The month of November is always synonymous with a concert-filled period, and I have to admit that this selection was very difficult to make as there are so many interesting concerts! Nevertheless, we have selected the 15 must-see concerts in November.
Neck Deep – Vooruit – 02 November
Do you like Pop-Punk? So do we! Neck Deep is the perfect band to start off this selection. At CtrlAltMusic, we've seen the band live several times, and we always had a great, fun, sweaty time! Come and see the band, and who knows, you might even hear some new tracks from their forthcoming album!
Coely – Cactus Club – 05 November
The rapper Coely is undoubtedly Belgium's finest representative of urban music. Often compared to the great American rappers like Akua Naru or Lauryn Hill in their early days, Coely will be delivering her flow at the Cactus Club in Bruges, but if you miss this concert she'll be at the Vooruit in Ghent three days later!
CHAI – Botanique – 06 November
CHAI embodies the musical expression of Japanese kawaii culture. Their vibrant and charming universe combines themes of empowerment, defiance of beauty standards, and a rejection of conformity. These beliefs have given birth to a term: 'neo-kawaii,' which celebrates human imperfections.
Halestorm + Black Veil Brides – Ancienne Belgique – 07 November
When two heavyweights of modern heavy metal join forces, the result is the Back From The Dead Tour with Halestorm and Black Veil Brides. So yes, the show's sold out, but we'd urge you to get a ticket on ticketswap, so if you don't, you'll regret it for a long time.
Weyes Blood – De Roma – 09 November
Natalie Mering, aka Weyes Blood, is returning to Belgium for the second time this year following a sell-out gig at the Botanique in February. If you're not already familiar with her, it's not too late to explore her musical universe, which draws inspiration from gospel choirs, medieval songs, a deep childhood connection with the guitar, a love of jazz, and the world of filmmaker Alejandro Jodorowsky.
Against The Current – Ancienne Belgique – 10 November
Against The Current was the first band we saw live when we created CtrlAltMusic, and our first live report for the site. So yes, we're delighted to see the trio back in Belgium… And what's more, they're coming with one of our favourites in the person of LØLØ. A great evening of Pop Rock just the way we like it!
Oliver Tree + Tommy Cash – Ancienne Belgique – 11 November
The eccentric Oliver Tree is back in Belgium, and we're not quite sure what to expect. All we do know is that we can't miss this concert, which is sure to mix catchy melodies with wacky humour. The extra icing on the cake is that Oliver is bringing along his friend Tommy Cash as support act!
Greta Van Fleet – Forest National – 12 November
Greta Van Fleet has come a long way since the release of Black Smoke Rising in 2017. Their reputation as a live act is unquestionable, and the descendants of Led Zeppelin are sure to set the Forest National on fire, just like every other place they play.
Cavalera – Vooruit – 12 November
The Cavalera brothers are back with their latest collaborative project. No more Sepultura, no more Soulfly, no more Killer Be Killed, no more Absent in Body, no more Cavalera Conspiracy,… Well, we'll stop here, because we could name 100 more bands. So today the Cavalera brothers have decided to reunite around a new project simply called Cavalera, and they've brought one of Max's sons on board. The Cavalera brothers are like Vin Diesel: family first!
Helmet – Trix – 18 November
Helmet, one of the most important post-hardcore bands of the 1990s, are back this year with a new album! Their first in seven years. The band, who have influenced major acts such as Deftones and Rise Against, will be rocking their guitars in an intimate show at the Trix club, playing both classics and new material.
Waterparks + Stand Atlantic – Ancienne Belgique – 19 November
In the left corner we have a mix of Pop-Punk, Emorap and Electropop, with the lively music of Waterparks! In the right corner we have the best representatives of Australian Pop-Punk with Stand Atlantic! All in all, it's going to be a great night out.
Melanie Martinez – Forest National – 19 November
Melanie Martinez is back with a show that promises to be nothing short of spectacular! The singer returns this year with a new album, Portals, and has swapped her Cry-Baby persona for a more magical avatar. If what we've seen in her videos is anything like what we've seen on stage, then we're in for a real treat.
Yves Tumor – Botanique – 20 November
Yves Tumor is a multi-artist who likes to mix disparate genres. This experimental artist combines noise, rock, electronica, pop and trip-hop in a fluid, almost surreal way. By playing with the boundaries of sound, they manage to constantly reinvent themselves and pop music. Their sound is unique, and we can't wait to discover it all live.
SKYND – Trix– 22 November
We should have seen SKYND last year at the Kavka but unfortunately the concert fell at the same time as a general strike! So this time we checked it out and nothing will stop us from going to hear the worst serial killer stories at the Trix! We can't wait to find out if SKYND's universe is as terrifying on stage as it is on album.
Fear Factory – Trix– 30 November
Seven years – that's how long we've waited to see Fear Factory back in Belgium! In seven years the band have released two new albums and recruited Milo Silvestro on vocals to replace Burton C. Bell! So yes, we can't wait to see Fear Factory again and hear the new songs live, but we also can't wait to discover if the new singer is worthy of being Burton C. Bell's successor.