During 3 days, you'll be able to enjoy the best touring bands in metalcore, hardcore, pop-punk, punk-rock and some surprises at Jera On Air 2023! From the headliners like Parkway Drive or Rancid to the opening acts like Static Dress or Ways Away, you won't get bored a seconds in Ysselsteyn end of June. But as there are lot of stages and bands, here are 10 bands you should watch for sure!
ARSON
There aren't many Belgian bands at Jera On Air. So when they're are some and, even better, when they're good, it's important to mention them! Arson will be there on Saturday 24th to represent Belgium with a bunch of rock'n'roll vibes! Wanna be in the mood? Put your best suit because the boys are always very well-dressed! Come early to catch them to start well this last day of the festival!
Songs to listen to: Empire, Smuggler's Soul, Lords of Misrule…
CASEY
Fan of melodic hardcore? If you don't know them yet, Casey is the band you need. The British combo stopped in 2019 before coming back last year: a comeback we didn't expect at all! Just the time to rest during this fuckin' pandemic… They released 2 new singles in 2022 called Atone and The Great Grief. Proof they're back for real with some bangers and hopefully a new full-length album soon! Until then, we can expect a sick show on the third stage of the Dutch festival without any barrier between them and us.
Songs to listen to: Funeral, The Great Grief, Atone, Hell…
DEFEATER
One argument: exclusive European show. Enough? Of course! The melodic hardcore band from Massachusetts will soon celebrate their 20th Birthday… and a new album? Who knows. The last one, called simply "Defeater" has been released in 2019. But in the meantime, they are still plenty of of classics to hear and we hope Jera On Air will put them as headliners on the small stage without barrier to enjoy a real hardcore show!
Songs to listen to: Bastards, Spared In Hell, I Don't Mind, Cowardice…
EMPLOYED TO SERVE
The young British band is around since a few years now. We discovered them in 2018 when they toured as opening act for Stick To Your Guns followed by a sick show at Slam Dunk UK the year after. But since then, we're still waiting to see them get the success they deserved. Maybe 2023 gonna be their year?! That's all we can wish for them!
Songs to listen to: The Mistake, Mark Of The Grave, Take Back Control, Exist…
LANDMVRKS
Do we still need to introduce the French band? Do we still need to say why you shouldn't miss them? Well, as they're not headliners yet, seems we have to! Their latest album "Lost In Waves" has been a massive breakthrough and became the leaders of this new generation of French metalcore bands including Resolve, Ten56, Ashen or Glassbone. The band played a lot in Belgium and around since 2 years: headliner tour in April 2022, Summer shows with The Ghost Inside or Bring Me The Horizon, a successful tour with Stick To Your Guns and Knocked Loose last November, Spring tour around Impericon Festivals right now… Who knows where they gonna stop?!
Songs to listen to: Lost In A Wave, Suffocate, Death, Say No Word…
PALEDUSK
There was Crossfaith. Then Crystal Lake. Now Paledusk. All from Japan and now they've all played at Jera On Air. Well, for Paledusk, it's still need to happen but just a couple of weeks to wait! Active since 2015, the metalcore band started to get success worldwide during the pandemic and have signed then on Avocado Bookings, the best agency for new metalcore bands in Europe: proof of the hope and growing hype around them! We've never seen them live – yet – but they've a strong reputation already like their oldest patriots so we can't recommend you enough to join us to (re)discover them at Jera On Air on Friday 23 June 2023!
Songs to listen to: Slay, BBB, Black Ice, I'm Ready To Die For My Friends…
PAPA ROACH
This is a semi-surprise to see Jacoby and his boys at Jera On Air this year. Of course, they fit for the festival and for the usual people there but we didn't expect them to be honest. Headliner at Jera On Air, headliner at Full Force, headliner at Vainstream, high spot at Jera On Air… Did we miss a Papa Roach revival somewhere?! The being said, we're curious to see them again and not at Hellfest or Graspop for once! Next to their friends in Fever 333 and Hollywood Undead, this gonna promise us a fire to close this second day of festival! So many classics to listen…
Songs to listen to: Last Resort, Between Angels And Insects, Scars, Kill The Noise…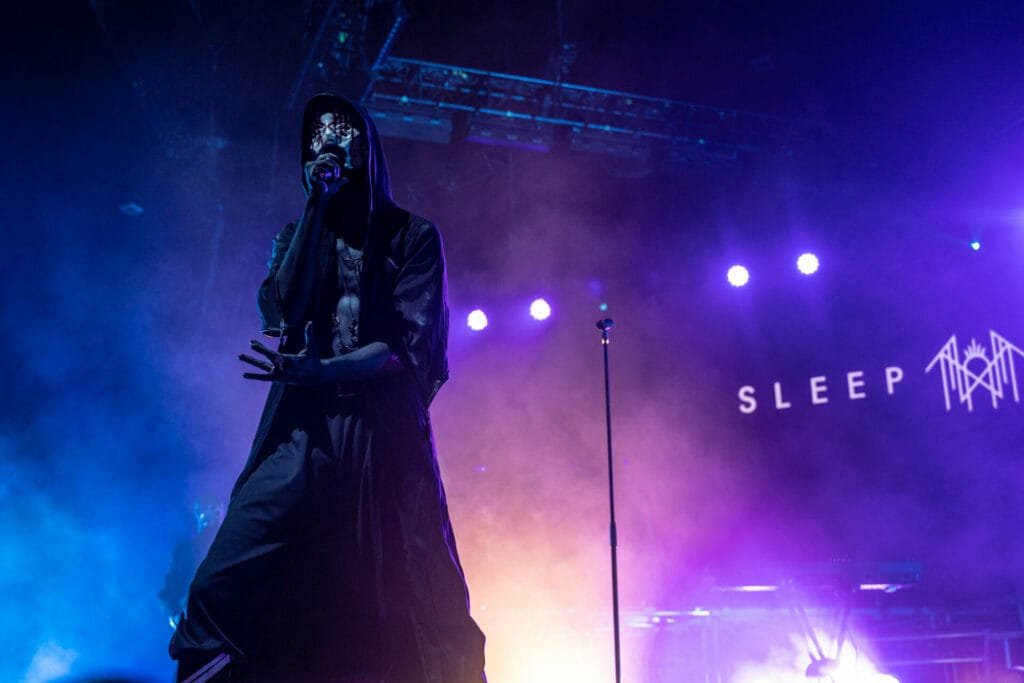 SLEEP TOKEN
Don't miss out on the chance to witness the awe-inspiring performance of Sleep Token at Jera On Air in June 2023! We spoke just before about the semi-surprise Papa Roach… well, Sleep Token is a real surprise! Like Carpenter Brut and Meshuggah too. We are used to see this kind of bands playing at Full Force the same weekend but not Jera On Air. So it surprised us… but in a good way! Prepare to be blown away by their hauntingly beautiful music that transcends genres and defies conventions. From their mesmerizing stage presence to their powerful and emotive vocals, Sleep Token delivers a spellbinding experience that will leave you breathless. So join the pilgrimage of devoted fans and immerse yourself in the magic of Sleep Token's live show – a musical experience you won't want to miss!
Songs to listen to: The Night Does Not Belong to God, Calcutta, Thread the Needle, Jericho…
STATIC DRESS
The band toured earlier this year with Bring Me The Horizon and A Day To Remember but we sadly miss them when they played in Antwerp on that tour. We're glad to see them coming back already so soon. Young and promising act mixing metalcore, emo, screamo and some electro stuff in a powerful modern music. If their music fits well for an arena-tour, if gonna fit perfectly for the good vibes of the Jera On Air this Summer!
Songs to listen to: Scream, Such A Shame, Clean, Sober Exit…
THE GHOST INSIDE
This is the first show The Ghost Inside are gonna play in Netherlands since their accident and so the first one since they've toured in 2015 with Asking Alexandria. A time when Groezrock was still happening and when TikTok wasn't. Feel old yet? Don't worry, the 5 survivors don't feel old at all! We saw them a couple of times since their return: in Paris then in London and both time they blew our minds. Don't miss them on this sick Saturday next to Enter Shikari, Meshuggah, Landmvrks and many more!
Songs to listen to: Engine 45, Aftermath, Dark Horse, Chrono…
This top 10 is obviously subjective. We all have our own expectations and we would love to know yours so we are waiting your comments on our social networks from now until the beginning of this new Jera On Air edition!