Beartooth finally brought their huge European Tour to Belgium. Rescheduled by the pandemic, Caleb Shomo and is teammates played in a soldout Ancienne Belgique this Tuesday 28 March. About 80 minutes of rock'n'roll to confirm how huge they became and the potential they have to become even bigger!
Everytime we see Beartooth, we had the same feeling: the venue is too small for them. In 2016, working for a previous media, we saw them in a packed Muziekodroom (R.I.P.) in Hasselt when they only had 2 full-length albums and we were shocked to see their energy live, to see how the audience was crazy to catch them live and how small this venue looks for them. A few years later, for our last metal show before the pandemic hit us, we saw them headlining the Main Room of the Trix: a pure madness in front of 1100 kids and once again, this venue where we go so often looked so small because of the aura the American band represented on stage. In between, we saw them playing the Jupiler Stage at Graspop in 2019 and it was packed too. Same at Jera On Air a few days later. Then, this fuckin' pandemic cancelled everything and we had to wait until Summer 2022 to see Beartooth again. Sub-headliner at Jera On Air, they played a show we'll remember forever! Same for the warm-up show with 550 lucky people at Dynamo Eindhoven a few days before. So, it's a small thing to say we were hyped as f*cked their biggest headline show ever in Belgium!
The opening band tonight is an act we've known for a long time and seen a lot in Belgium: Stray From The Path. We know how good they are live, how tight they sound but we didn't know how the crowd would react, especially as their music is way hardcore and heavier than the 2 other bands. First surprise: the room is already almost full for them. Second surprise: a bad one, the sound isn't really good at the beginning but fortunately it will improve after 2 songs. Maybe the fault of the machine sitten behind the drums? One of the most famous drummers in the metalcore/hardcore area, thanks also to his podcast Downbeat, Craig Reynolds. The drums took a lot of place in the mix, so was the vocals, but bass and guitars weren't present enough. Third surprise: it took a few songs to warm-up but the crowd gave a better reaction song after song until a massive finish on First World Problem Child!
It couldn't be an hardcore show without some speeches about the issues in the world. Drew reminded everybody that they are against fascism, racism, homophobia and all the social problems in our society. He also took a couple of minutes to remind how lucky they are to be back on stage after this too long pandemic. And honestly, we could say the same about them: we're lucky and so glad to be able to catch them live again! We were a bit afraid before tonight that their show wouldn't be great with this crowd but we've been mostly wrong. We didn't have a big mosh-pit, just a couple of crowdsurfers but people knew their best songs and it was a real pleasure to see them in the beautiful venue in Belgium.
Set-list: Needful Things, May You Live Forever, Goodnight Alt-Right, III, Fortune Teller, Guillotine, First Wold Problem Child.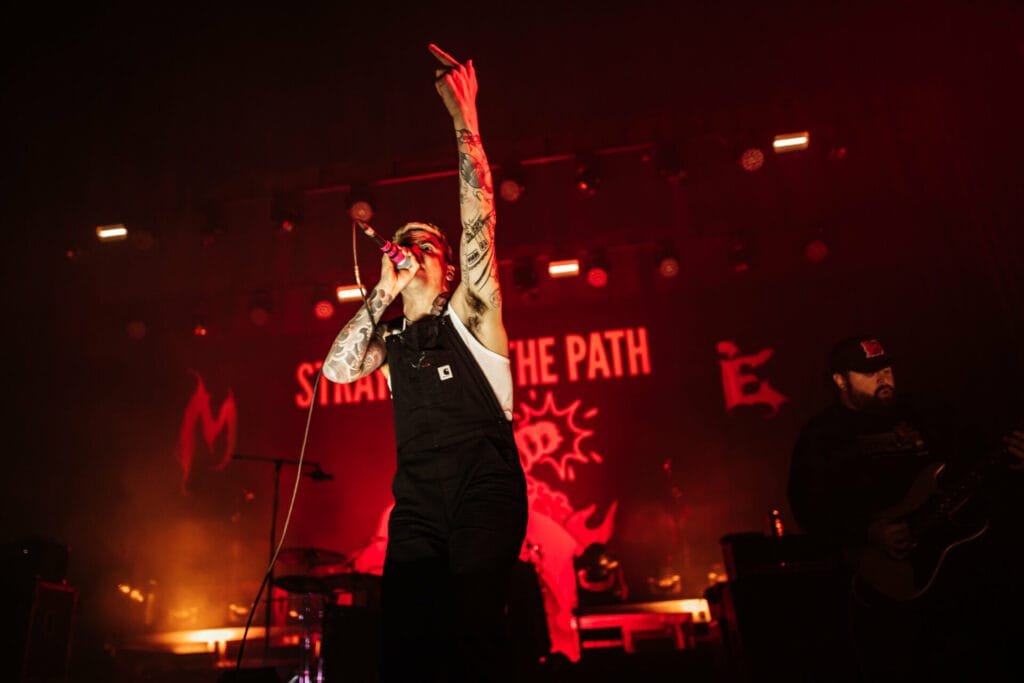 Second band on the bill: Motionless In White. Based on the long line in front of their merch booth when the venue opened its doors, we knew a lot of people came especially for them! The 5 Americans don't play often in Belgium, even less indoor shows like tonight and after the massive success of their last album, we fully understand the hype tonight. Their last show in a Belgian venue was an headliner set in December 2019 at the Trix Club in front of 400 people. Tonight, the room is full for them, meaning 2000 people: 5 times more!
It's not the first time they play at the Ancienne Belgique: they were here 10 years ago, opening for Asking Alexandria. Back in the days, the British band still sounded decent. But not Motionless In White… Ctrl Alt Music didn't exist yet but we were there and we weren't impressed by them at all. Since then, many things have changed! Tonight, full room, tons of fans, great stage production, better music: all the ingredients for a sick show! During 45 minutes and 9 songs, they confirmed their new statut in the metalcore scene. They'll be back in Belgium this Summer to play at Graspop and we can already be sure that their next headliner show will be at least in the Main Room of the Trix in Antwerp and it should be soldout!
From the moment the room was plunged into darkness, seeing all the smartphones in the air ready to film, from the front row to the control room, we had the confirmation that there were a lot of people waiting impatiently! And they fully confirmed it. From Thoughts & Prayers to Eternally Yours, the audience sang loud every chorus. On top of that, we got 2 surprises. Firstly, the featuring of Caleb Shomo on the second part of Slaughterhouse. Secondly, their cover of Somebody Told Me from The Killers. A great party moment, even if we'd have loved to have one more of their own song than a cover.
Set-list: Thoughts & Prayers, Cyberhex, Slaughterhouse, Break The Cycle, Masterpiece, Werewolf, Another Life, Somebody Told Me (cover), Eternally Yours.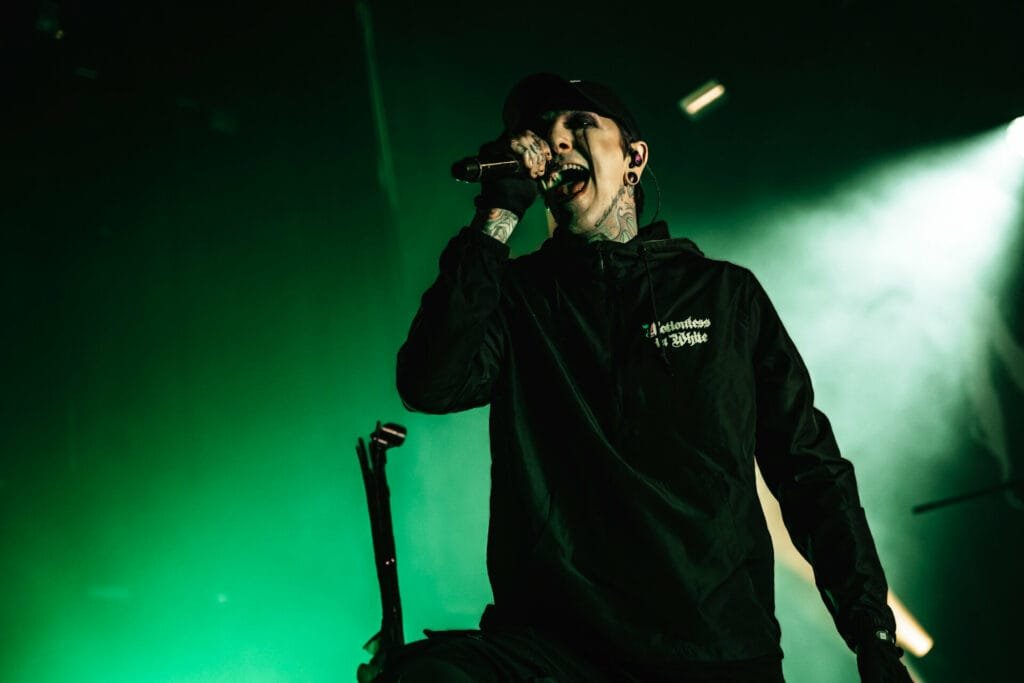 After this sick set of Motionless In White, there was a little bit of pressure on the headliner. Well, if the headliner wasn't Beartooth and had the reputation to be an insane live band. But still: they had no right to be wrong! Especially after their last album that sounded great but din't bring them a lot higher than with "Disease" released in 2019. And honestly, we thought this tour would be a way to promote their 5th album but it's not released yet. We just had one single, Riptide.
We know how much Caleb Shomo loves… kiwis (who haven't seen his stories eating kiwis with the skin?!) but also rock'n'roll. Since the third album "Disease", which marked an important change in the music but also the appearance of the band, they are almost 50/50 between rock'n'roll and metalcore. Some bands tried to do 50/50 between to kind of energy but failed: liked Bullet For My Valentine with their third, fourth, fifth albums trying to do a metalcore for stadium (we don't have all the talent of Parkway Drive for that). Anyway. Before Beartooth arrived on stage, we had a great karaoke in the room ending with Living In A Prayer by Bon Jovi, followed by a failed drop of the white curtain in front of the stage. When some musicians could have been mad about it or even stop the song, Caleb just joked about it during the show but also on Instagram sharing our video with a comment: "I wanted to sing a in tent during the first 10 seconds". Keep calm, enjoy and make rock'n'roll!
Sadly, like the 2 opening acts, the sound wasn't great at the beginning but it was good enough for the third song: Disease. We were surprised to hear it so early in the set and even if it went well, we had the feeling the second would have been so much better later in the set when the audience was 100% ready for it.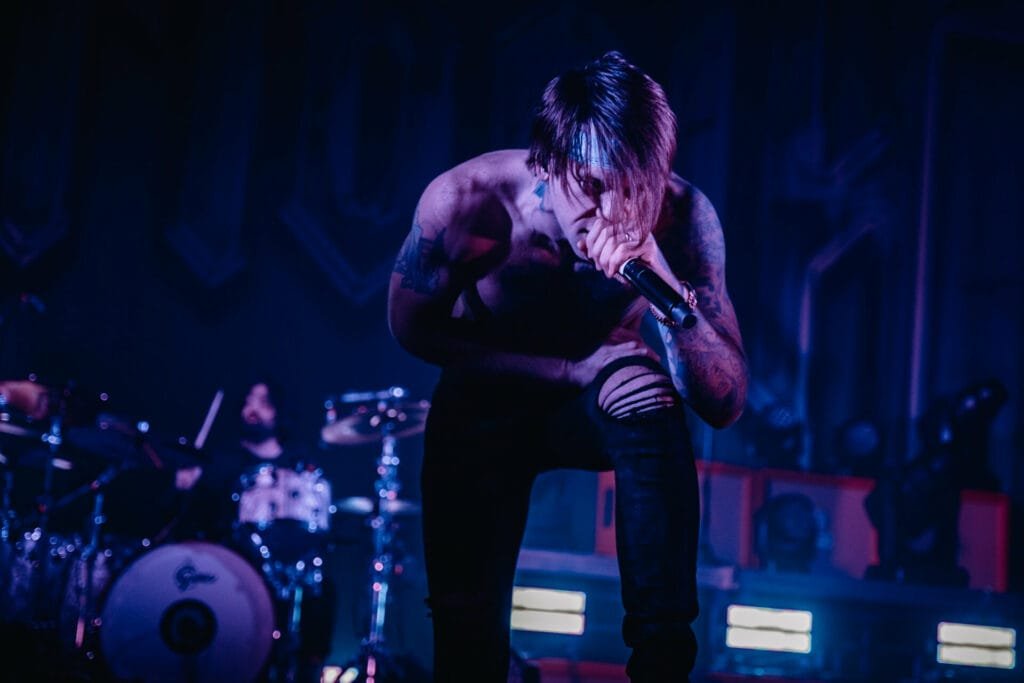 Tonight, we had almost no time to rest. Song after song, there were no breaks or they were very short. If you went out to the bar, you could have missed a song! Caleb had so much energy and so much joy to play. He asked for something, the whole crowd answer. Wanna a moshpit? You got it, Sir! Wanna a circlepit? You got it, Sir! Wanna us to sing a full chorus? You got it, Sir! Wanna see the whole floor headbanging at the same time? You got it, Sir! Just a perfection communion between a band so fuckin' happy to be here and an audience so fuckin' happy to be there too!
It's hard to mention a few highlights of the show because the whole show was sick. But what we can mention is the crescendo of the intensity during 80 minutes. We thought The Lines/Beaten In Lips was gonna be the highlight? Wrong. When to hear You Never Know/Bad Listener. Then, wait to listen to In Between. We can also mention the encore with the classic duo The Past Is Dead and The Last Riff where Caleb brought his guitar through the pit until the sound-desk. You want a real rock'n'roll show? You got it!
Set-list: Below, Devastation, Disease, Body Bag, Riptide, Dominate, The Lines, Beaten In Lips, Skin, Hell Of It, You Never Know, Bad Listener, Hated, In Between. Encore: The Past Is Dead, The Last Riff.
Once again, Beartooth confirmed their live reputation in a full Ancienne Belgique that looks way too small for them. Hopefully, we'll have the chance to see them in a bigger venue with a full production (meaning pyro like at festivals or German shows on this tour) later this year. Until then, we can say it: if you weren't there, you really miss something.