On the 2nd of November, in the heart of beautiful Ghent (Belgium), music enthusiasts gathered at the iconic 'De Vooruit' venue for a night that promised to be unforgettable. Neck Deep, the renowned Welsh pop-punk sensation, took the stage, supported by Static Dress. This evening held a promise of energetic melodies, heartfelt lyrics and a connection between the artists and the crowd that would be etched into the memories of all who attended.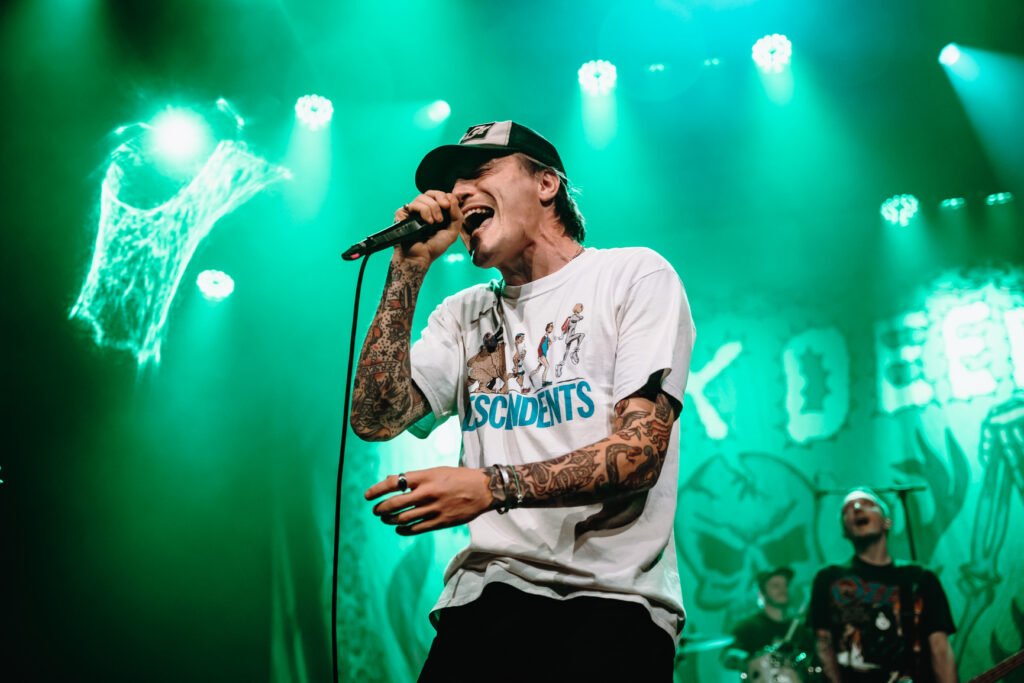 The night began with Static Dress, a band that emerged in 2018 and made their mark with their debut single "clean", in August 2019. They had an intriguing stage setup, featuring old TVs displaying random clips and band members adorned in eccentric attire, from metallic blazers to mysterious masks. As they attempted to warm up the crowd for Neck Deep, they urged concertgoers to participate in mosh pits, wave their hands and jump into the air. It's fair to say that Static Dress's atmospheric Emo-Hardcore energy might not have been an ideal match for Neck Deep's fan base. However, it's clear that Static Dress is a band worth keeping an eye on.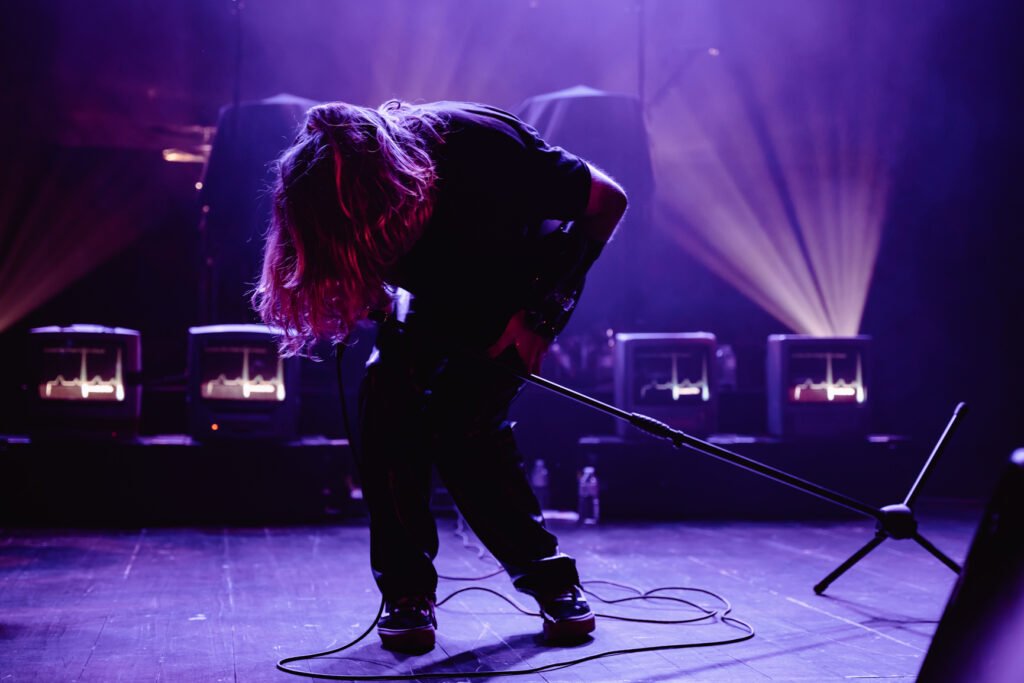 Following the opening act, it was time for Neck Deep, a band that has been captivating audiences for over a decade. They had even earned the prestigious "Alternative Press Music Award" for being the best live band in 2016. Neck Deep never disappoints. Delivering a setlist that spanned their entire career, from their first song ever written to their latest release. The energy in the room was palpable as fans eagerly crowd-surfed, leaped off the stage and sang along with unbridled enthusiasm. It was, without a doubt, a true Neck Deep party.
The mutual respect between the band and their fans was undeniable. Lead singer Ben took every opportunity to ensure the crowd's safety, even extending his hand to assist every crowd-surfer'ss graceful landing. He interacted with the audience in various ways, including wearing a mask gifted by a fans and sharing a smoke with a member of the audience.
Amidst all the high-energy anthems like "Can"t kick Up The Roots", "Heartbreak Of the Century" and "Smooth Seas Don't Make Great Sailors" a song where the most of their fans got a tattoo from, the band also delivered an emotional, acoustic power ballad known as "A Part of Me". Ben emphasized that Neck Deep has always embraced their softer, emotional side, and they're not about to change that.
One of the most memorable moments of the concert came when Ben addressed the state of the world, expressing his concern about ongoing conflicts and violence. He implored the audience to channel their frustration and anger into positive change. That silence is violence and you have to speak up, that It's time to mosh off your anger for the world, for Palestine and to sing your heart out. This was the start of the song "Citizens of Earth".
As the night drew to a close, Neck Deep returned for an encore, treating fans to the irresistible tunes of "Motion Sickness", "Gold Steps" and "In Bloom". After the encore, Ben took the time to explain why people should buy merch from bands they love, to support the live music and keep the scene alive by attending shows. He also promised a return, possibly for the upcoming summer festivals and expressed his gratitude to their dedicated crew, backstage teams, people working for De Vooruit and, above all, their devoted fans who shared this remarkable journey with them.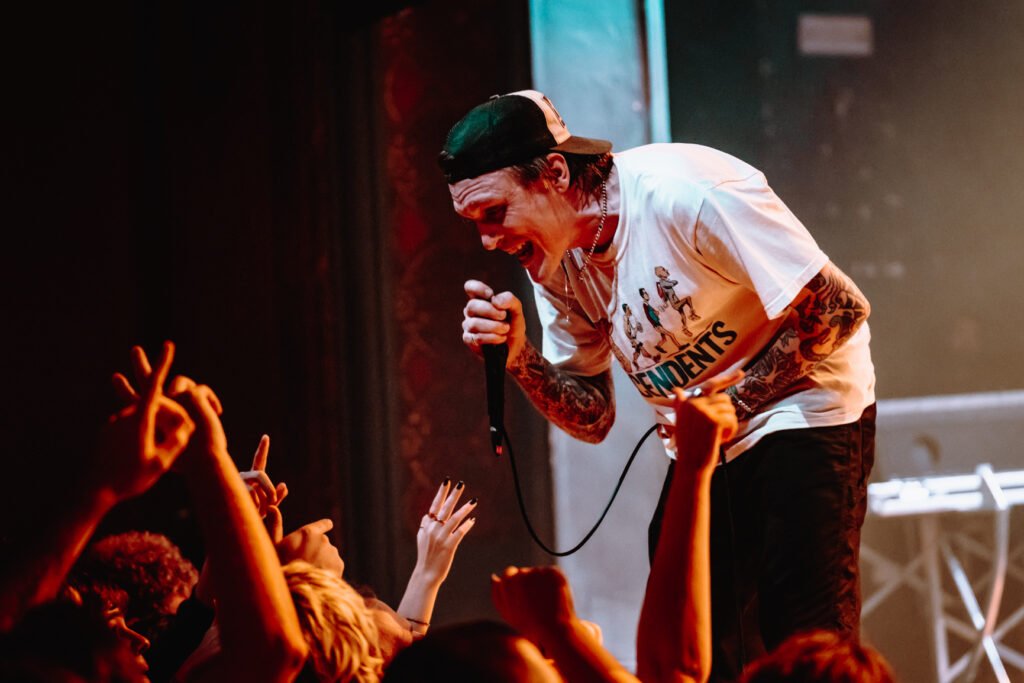 Setlist: Sonderland – lowlife – Citizens of Earth – Can"t Kick Up the Roots – What Did you Expect? – STFU – Heartbreak of the Century – Take Me With You – Smooth Seas Don't Make Good Sailors – She's a God –Gold Steps- A Part of Me – December – Kali Ma – Motion Sickness – In Bloom
In the end, the concert was a harmonious blend of pure musical magic, a sense of community and a reminder that music has the power to unite and uplift, even in a world filled with challenges and turmoil. Neck Deep's performance at "De Vooruit" in Ghent was nothing short of spectacular, leaving fans (inclusive me) with memories to cherish and a promise of more to come.