Canadian-American artist Jordan Benjamin, widely known as Grandson, brought his unique blend of fiery guitars, rap influences, trap beats, gritty drops and electronic inspiration mixed with passion and social activism to TRIX Antwerp, and the hype absolutely lived up to reality.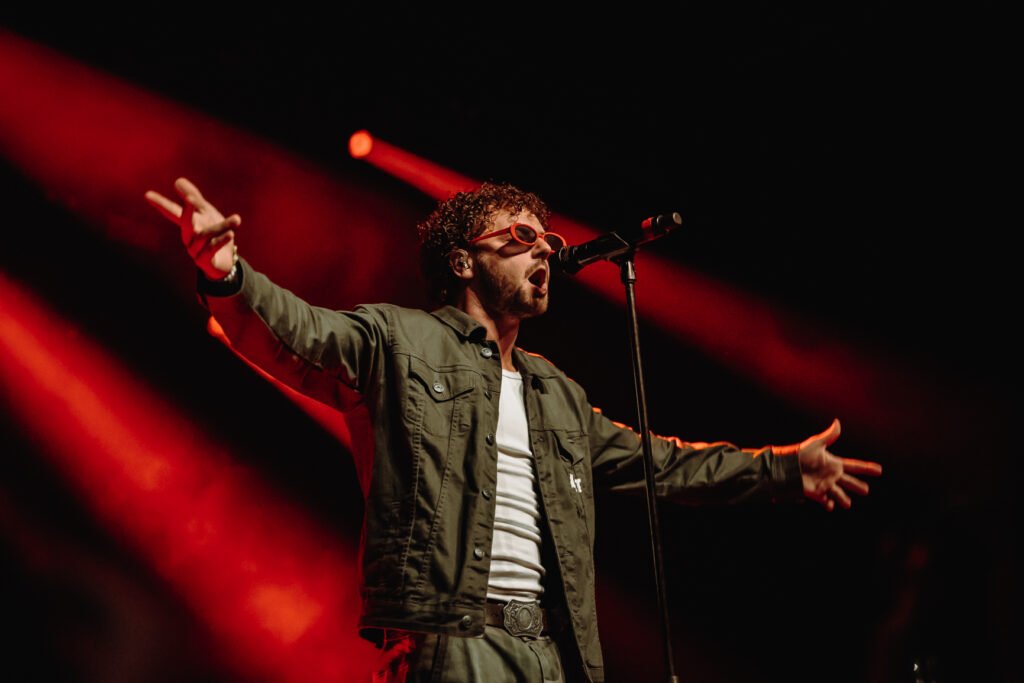 The evening began with the British band NOISY as the opening act, setting the perfect tone for the night. Much like Grandson, NOISY defies genre classification, seamlessly merging alternative beats with indie anthems. Cody Matthews electrifying performance, featuring song like "Desire" and "Alligator", had the crows in the perfect mood for what was to come.
As anticipation mounted after NOISY left the stage and the crew prepared for Grandson, the iconic strains of Queen's "Bohemian Rhapsody" filled the air, with the entire crowd singing along in eager anticipation of Grandson's arrival.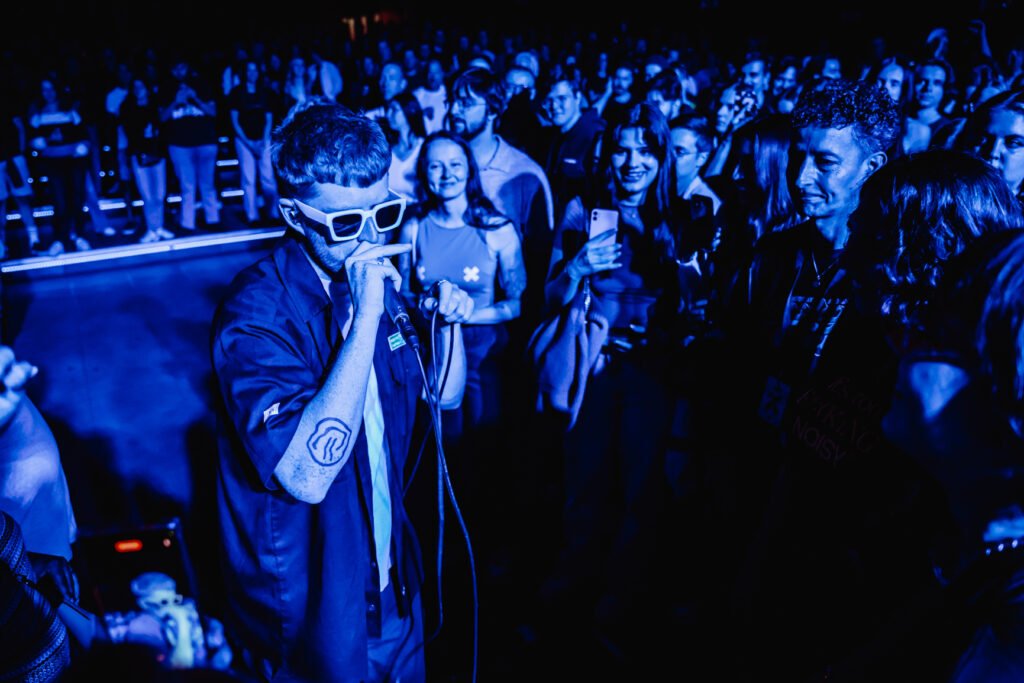 Grandson wasted no time, launching his concert with tracks from his latest album, I Love You, I'm Trying, including "Two Along Their Way" and "Something to Hide". After this, he took the time to explain some "rules" for his show. "Rule #1, when I say jump, jump; Rule #2 Sing! Rule #3 Everyone is welcome encouraging people to go safely in their first mosh pit.
However the show was filled with a high energy, he also took a poignant moment to revisit his earlier work from the Modern Tragedy era (2018), where he addressed significant issues affecting his homeland, the United States. The crowd's enthusiasm reached its peak as he performed songs like "6:00", "Bury Me Face Down" ad the track "Darkside" where everyone was singing along with the "la la las". However, the true explosion of energy happened when he graced the stage with the fan-favorite "Blood//Water", even handing out bottles of water to the audience, encouraging them to toss them around, adding an additional element to their show.
Grandson engagement with the crowd is highly interactive, from reaching out, taking a fan phone to film his performance, jumping into the crowd to singing a song named "Rain" with a fan because of her birthday making this an evening well worth the wait for the many 'Grandkids', as Grandson affectionately calls his fans.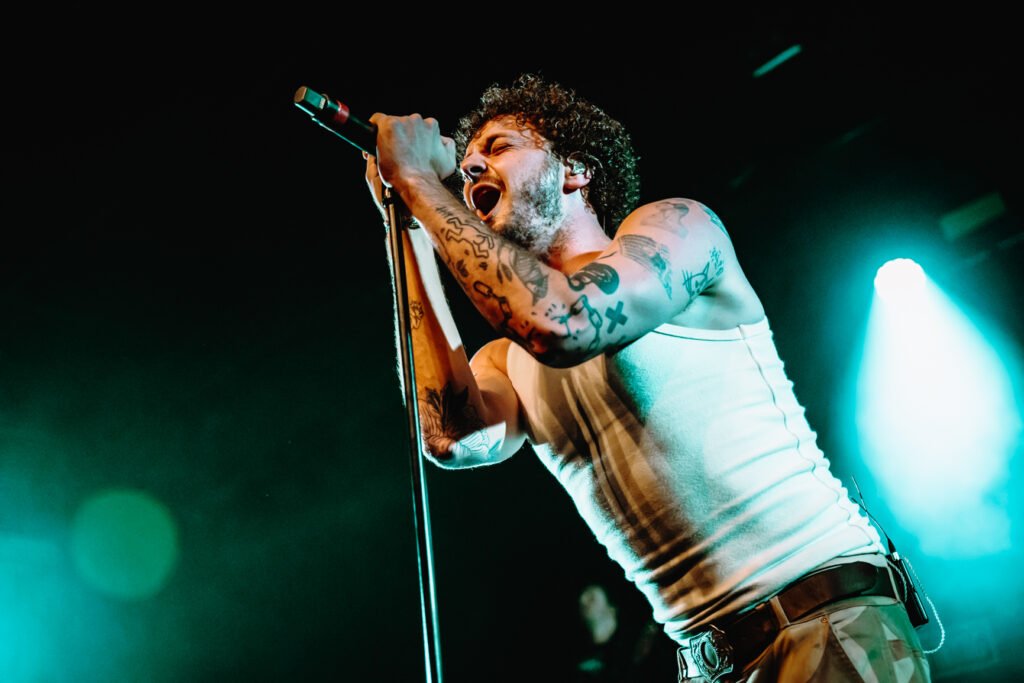 He also performed the emotional song "Heather" in the crowd, surrounded with the gentle glow of cell phone lights. It's a track Grandson made, dedicated to an early fan who tragically took her own life. After this emotional and raw performance he returned back to the stage, where he easily shifted the atmosphere from sadness to madness kicking of with the track "Despicable".
For his encore, Grandson paid tribute to a band that had a profound influence on him, Linkin Park, especially giving a nod to Mike Shinoda and performed the song "Riptide". This was their last song of their performance. For those craving more, you had the option to stay longer for the free after show concert by DeathByRomy.
Setlist; Two Along Their Way – Drones – Something to Hide – Oh No!!! – 6:00 – Bury Me Face Down – Enough – Darkside – Overdose – Rain with a fan for her birthday – Eugoly – Stigmata – When the Bomb Goes – Apologize – Stick Up – Best Friends – Dirty – Heather – Despicable – We Dit it!!! – Blood/Water – Riptide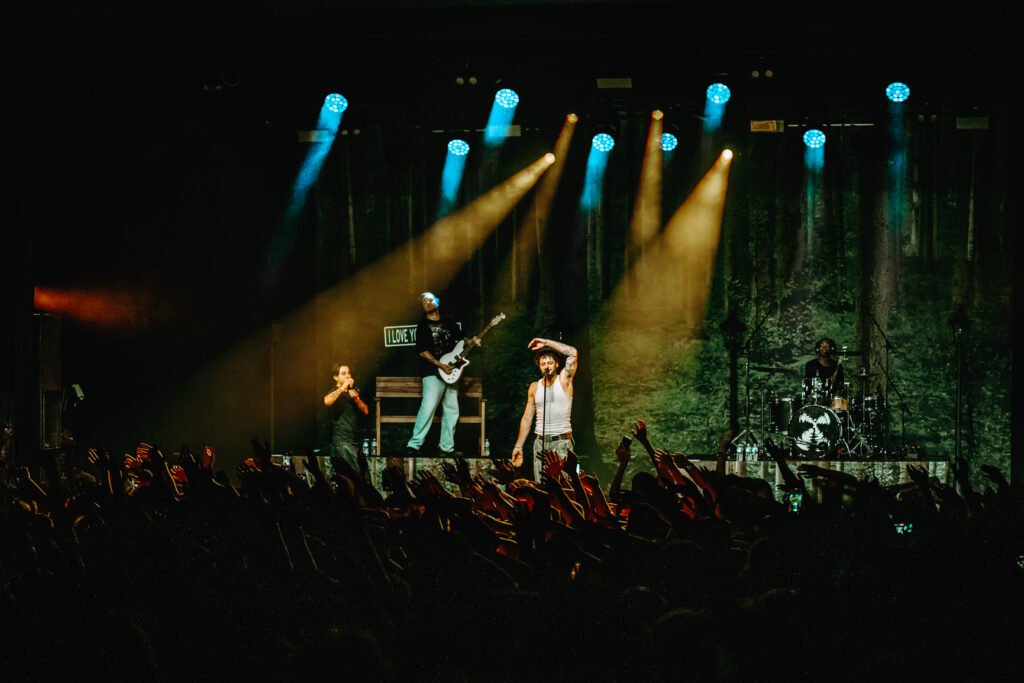 Grandson's concert at Trix Antwerp was an electrifying and emotionally charged experience that left the audience both exhilarated and moved. Grandson left a lasting impression. From the powerful opening act by NOISY to the touching tribute in "Heather" and the energetic encore, this night was filled with memorable moments.